Applying for a loan can sometimes be nerve-wracking – especially if you are unsure if the loan that you need will be approved.
And indeed, there are times when you will receive a rejection, which can be heartbreaking, particularly when you urgently need an injection of funds for business purposes. After all, as per Linkflow Capital's 2019 SME finance survey, approximately 70% of small and medium enterprises are not eligible for loan financing.
However, should you find yourself in this position, don't simply jump into another loan application. Instead, take some time to read the article below to find out the top reasons why a small business loan in Singapore might be rejected, so that you can best position yourself for a successful loan application the next time around.
Top reasons why a small business loan in Singapore gets rejected
Low Credit Score
A credit score is a number that indicates to every leading money lender how creditworthy you are, allowing them to assess how likely you will repay your debt. It shows how financially sound you are and the risks of approving the loan. In Singapore, it is also termed Credit Score.
Simply put: the higher the score (up to 2000) and the better the grade (AA rating), the higher your credit score. The lower your score, the more likely you will be considered a "high risk" customer. In this case, some financial institutions, including legal money lenders in Singapore, will reject your small business loan.
The table below shows the range of credit scores and the corresponding possibility of defaulting.
| | | | |
| --- | --- | --- | --- |
| Score Range | Risk Grade | Probability of Default | |
| | | Minimum | Maximum |
| 1911-2000 | AA | 0.00% | 0.27% |
| 1844-1910 | BB | 0.27% | 0.67% |
| 1825-1843 | CC | 0.67% | 0.88% |
| 1813-1824 | DD | 0.88% | 1.03% |
| 1782-1812 | EE | 1.03% | 1.58% |
| 1755-1781 | FF | 1.58% | 2.28% |
| 1724-1754 | GG | 2.28% | 3.46% |
| 1000-1723 | HH | 3.46% | 100.00% |
Bad credit history
This occurs when you often fail to pay on time, resulting in huge outstanding debts. If you are the sole proprietor of the company, your personal credit history matters as well – a factor that can be overlooked if the business is well established and has sufficient assets that can be held as collateral.
Another piece of good news: one's credit history can be improved. Improve your credit score by having a business credit card, make some purchases, and then ensure you pay on time.
If you want to prevent making further mistakes, engage a loan broker who can help ensure that your credit score remains the same by only contacting agreed lenders.
Your business is relatively new
If your business is new then you may not have sufficient credit history to get a small business loan approved. After all, vendors do not report payments to the business credit companies automatically. When you create an account with a new vendor or supplier, make it a point to make sure that they report your payments as this will help you to improve your credit history.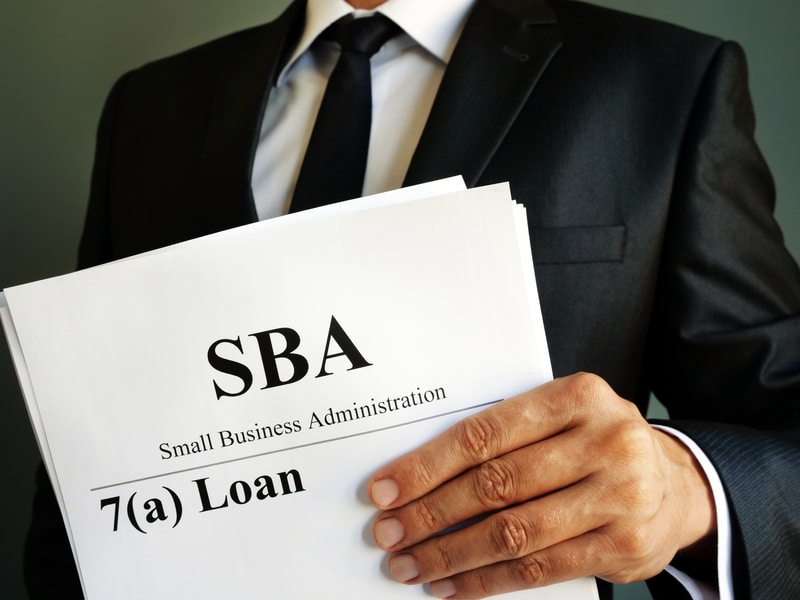 Asked for "not enough" or "too much money"
Banks and money lenders analyse your debt service ratio to know if you have enough cash flow to pay off the loan. This is calculated by checking the annual net operating income and then dividing it by the annual debt payment. The higher the number, the better. Generally speaking, a debt service ratio of at least 1 is ideal – the higher the number the better. The next time you apply for a loan, run your expected loan amount with an online loan calculator to ensure that your loan amount will not exceed the limit.
Lack of a business plan
A business plan explains why your company needs investment and how you are going to use the funds. It is one of the main tools used by the best credit money lenders to estimate business loan applications.
If you failed to get your loan approved the first time around, it might be a good time to put together a solid business plan. In addition to the description of the business and its structure, the service or product, the marketing strategy, and the sales plan, you are required to present the following:
The market report
Financial projections according to the cash flow and the income statements, budgets, and balance sheets
An index with documentation with the application
Applying for a small business loan is not an easy task, however, it is better than letting cash flow problems stop the company from growing. By increasing the line of fast loan credit, the asked loan amount remains realistic, and the lender is provided with a business plan that enables you and your company to achieve the best possible state. It will improve your chances of obtaining the required funds, thereby enabling your business to enter the next level.
Insufficient Collateral
Lenders favour borrowers who have skin in the game – the assets offered up as collateral, which the borrower would forfeit if the borrower defaults on the loan. Before reapplying for financing, arrange all your personal documents, personal assets, and accounts receivable.
Then, decide on the loan provider in Singapore that you want to borrow from. When reviewing the list, consider the possibility of default and the consequences that you will face should you have your assets confiscated.
No strong evidence of great cash flow
Cash flow is one of the prime considerations for private money lenders when deciding whether to approve a small business loan or not. They like to know that you have adequate cash not only to run your business expenses but also to pay off the loan. In short, they are looking for a suitable buffer.
If your cash flow is uneven, or you often experience seasonal declines, this may be a red flag against you. Insufficient cash flow is the main reason for business failure. Hence, if this is the reason why your loan application was declined, then it would be prudent to check on your cash management skills. With suitable accounting software, you can easily generate cash flow reports and forecasts. Watch your cash flow weekly to maintain the highest level. Show some effort to collect payments due from customers and try to prevent overdue invoices.
Incomplete paperwork/application
Regrettably, the most common cause for a small business loan application being rejected is that the candidate did not fill out the application form accurately or did not give the required backup information.
Most businesses spend more than 20 to 30 hours on each loan application.
In addition to other documents, money lenders can also ask you for your business plan, business bank account statements, financial projections/ statements, as well as business and personal credit reports.
Other legal documents that could be required include the legal documents of the business, such as leases, contracts, permits, licenses, and corporate documents.
Choosing the wrong loan and the wrong money lender
The final mistake you might have made is that you have applied for the wrong loan and from the wrong money lender. As a result, you were not privy to the exact guidelines, the pros and the cons, and the required paperwork needed to get your loan approved
This is where assistance from an experienced loan broker can be useful. A good person will interact with you, know your requirements, and suggest the best type of loan based on your requirements.
Before approaching a loan broker or a money lender, do a self-assessment. Try to see if there are any red flags in the application, and pay attention to your debts and credit history. The process can be complicated but trusted money lenders can guide you to a smooth, successful process.
Unstable Employment
If you are changing jobs frequently, particularly, when you are in the middle of loan approval, then this might be a warning sign to the loan officer. The job changes may show that you lack the constant income to pay the loans and that you can lose the job anytime.
However, it is worth noting that even if you are self-employed, or you change jobs but stay in the same field, it will not affect your chances of getting a loan approved
Conclusion
It is not easy having a loan that you need to be rejected, but take the rejection as a learning experience. By taking the time to understand what is needed for a successful loan application and preparing for your next application well, you can increase your chances of a successful loan application dramatically.
Should you require any further assistance, our friendly staff at Cash Direct can offer you trusted guidance and advice. Reach out to us today.