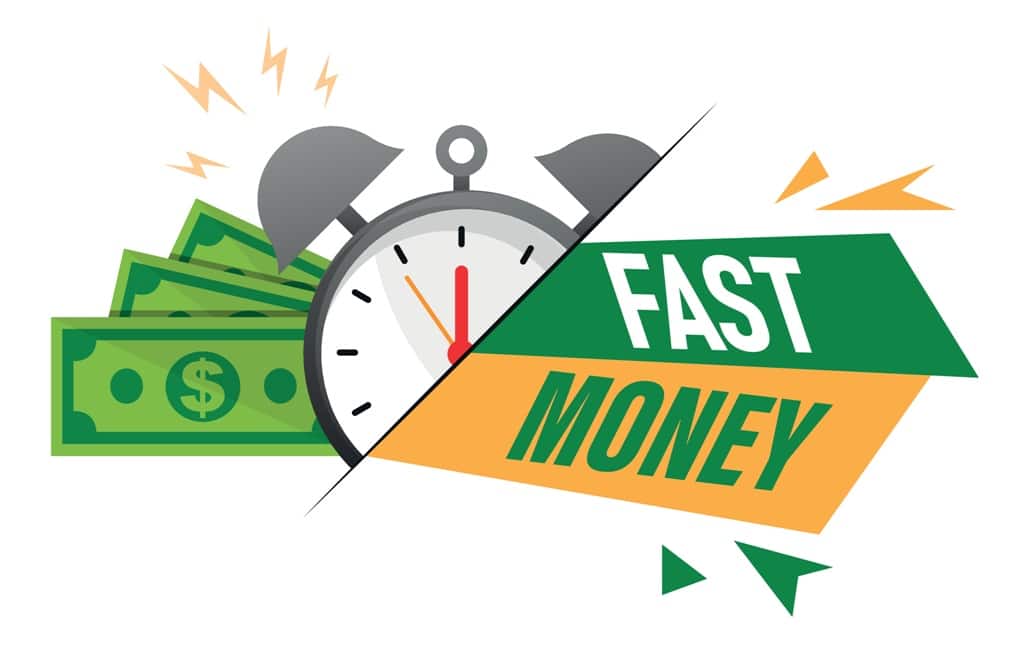 Most Singaporeans don't have emergency funds. In unforeseen circumstances, they would find it difficult to maintain their lifestyle or pay for a sudden large expense. A convenient solution is to get an instant loan in Singapore.
Instant loan Singapore – What is it?
An 'instant loan' from a licensed money lender in Singapore is quick but it isn't actually 'instant'. This is because government regulations require lenders to verify certain details before approving a loan request.
As a responsible lender, Cash Direct can give your loan application instant provisional approval. We will then give you instant loan approval after we have verified your identity and basic financial information. This quick process helps us to protect you from identity theft and financial fraud.
If an applicant provides the right identity proof (NRIC, FIN card, passport) and financial information (e.g. banks statements, proof of employment), approval takes less than 20 minutes. The approved loan is given to you in cash at our office or transferred to your bank account immediately, hence the name 'instant loan'.
Instant loan Singapore – Who is it for?
More Singaporeans apply for an instant loan every day. This surging popularity is due to the convenience of a fast turnaround.
Here are some common reasons that our clients apply for an instant loan. Are you in the same situation?
· Medical emergency – a large sum of money to ensure critical, perhaps lifesaving, treatment
· Legal problems – lawyer's fees are expensive but may be necessary to avoid unfortunate outcomes
· Business downturn – business owners need cash quickly to remain open in difficult times
· Vehicle repairs – Grab and Gojek drivers want to keep their vehicles running to earn money
· Personal loan – your dream phone/laptop/handbag is on sale for a limited time
Instant loan Singapore – How much can you borrow?
As with the document requirements, every licensed money lender has to follow loan limits set by the government.
The upper limit of an instant loan is the same as that for all loans from licensed lenders: 6 times the borrower's monthly income. However, those who learn less than $20,000 per annum can only borrow a maximum of $3,000.
The lower limits of a loan depend on the individual loan application. Cash Direct may approve a micro loan to an applicant under the right circumstances. You can contact us with your queries about this.
Instant loan Singapore – Bank or licensed moneylender?
The main difference between a bank loan and a loan from a licensed lender is the approval criteria. Banks have very rigid rules for an applicant's credit score, employment status and history, and credit utilisation level.
By contrast, Cash Direct offers relaxed eligibility criteria, generous loan terms, and a more casual approach. You are more likely to get instant loan approval from a licensed lender than a bank, whatever your credit score.
Instant loan Singapore – Are you eligible?
At Cash Direct, we look at your circumstances today rather than just your financial history. Some of our regular clients today are people who have previously declared bankruptcy, have no formal employment, or have very low credit scores. We find an empathetic way to work with them.
What to consider:
· Eligibility criteria – we may approve instant loans to applicants who are rejected elsewhere
· Loan limits – the maximum we can lend you is set by the government (as explained above)
Improve your chances of approval
There are four easy ways to improve your chances of instant loan approval:
· ID documents – provide originals (we verify them but do not keep them)
· Finance documents – maintain a good record, bring copies, and have access to IRAS, CPF, etc.
· Work – Whether from regular or casual employment, all income helps your case
· Responsibility – Honour your debts and pay them on time
What if you are turned down?
Cash Direct tries to accommodate every loan application. We sometimes have to turn borrowers down but that is not the end of the road. Our friendly and understanding team will discuss ways to get approved in the future. You can read their advice on debts and friendly solutions in this article.
If you still need urgent cash, some good alternatives are a pawn shop, selling used items you own, or lowering the loan amount requested.
Instant loan Singapore – How to apply
You can either apply online or in person.
Apply online
You can apply directly using the online form on our homepage.
· Pros: Convenient, fast, and hassle-free
· Cons: Only provisional approval and may change
Apply in person
Visit us at our Jurong East Central office. Remember to bring all the necessary documents.
· Pros: Face-to-face discussion for advice; can amend request if rejected; immediate cash in hand
· Cons: time-consuming
Why choose CashDirect for an instant loan?
Cash Direct is a leader in providing the instant loan Singapore residents want. When you choose us, you get:
· Speed – A turnaround process of less than 20 minutes
· Established brand – We have maintained a strong local presence for many years
· Reputation – Our clients rate us highly for service and convenience
· Privacy and Security – We maintain high levels of privacy and confidentiality