Does an interest-free loan really exist? Many financial institutions out there advertise interest-free loans, but just how true are these offers, and what should you know before you get one?
What is an interest-free loan?
An interest-free loan is simply a loan that comes with a 0% interest rate. However, it usually comes with a catch.
The fine print can reveal applicable fees and charges that make the effective interest rate far above zero. This could be in the form of processing or administrative fees, stringent late payment rates, etc.
If you are applying for an interest-free loan, remember to read the fine print and check the effective interest rate as well.
What is an Effective Interest Rate (EIR)?
An Effective Interest Rate (EIR) is a more accurate representation of the true cost of a loan amount as compared to the advertised interest rate. It takes into account other factors that contribute to your overall interest rates such as processing fees and the repayment period.
You should always consider the terms and conditions of an interest-free loan and if it comes with any hidden costs. Interest-free loans may be subject to zero interest only for a short period of the loan, such as study loans where no interest is charged during the term of the course.
Some personal loans may be available at zero interest for a one-year tenure but can be subject to processing or other administrative fees that can make the effective rate of interest quite high.
Interest-free loans can actually end up costing you more if you are not familiar with the terms and are unable to repay the original fee on time.
Who can offer you an interest-free loan?
Some banks offer interest-free study loans but these loans aren't completely zero-interest but offer flexibility for students to manage higher studies, find a job and then start paying back. Banks will always be transparent about the effective interest rate so making sure that is discussed can avoid any confusion later.
There are also government schemes with interest-free loans and educational trusts to help students further their studies. These are very niche loans that can only be used for education-related purposes.
Apart from these financial institutions, a few licensed moneylenders may also offer interest-free loans depending on the person's income, the type of loan, and tenure. These interest-free loans can be offered as short-term loans depending on the moneylender's terms and often require the borrower to pay off their loans within a very short period, such as in two weeks as opposed to a traditional loan with a longer tenure.
Banks also have viable options for low-interest personal loans that you may want to consider if the interest rate charged on the loan amount is your primary concern. However, while you assess all loan options from both licensed moneylenders and banks that may be available to you, keep in mind that each of these financial bodies follows different criteria to assess your loan application.
Interest-free loans from banks or licensed moneylenders – what's the catch?
​​Even though personal loan interest rates are zero, an interest-free loan in Singapore usually has many terms and conditions. Breaking any of these rules can result in higher costs compared to a regular loan with interest.
Let's look at the expenses involved in an interest-free loan. Besides interest, there are two other types of charges that add to the total repayment amount a borrower has to bear.
1. Preset Charges
The first type is preset charges, which include common administrative fees found in most loans. There may also be charges specifically associated with interest-free loans. These preset charges can be paid upfront when your loan is approved or added to your monthly payments. Examples of preset charges include fees for starting the loan (origination fees), fees for handling the paperwork (processing fees), and penalties.
2. Penalties
The second type is penalties, which are additional charges imposed when a borrower fails to meet the terms of an interest-free loan in Singapore. These penalties can include fees for late payments, fees for missed payments, and fees for processing late or missed payments.
However, not all loans have the same preset charges and penalties. To understand the specific charges and conditions, it's important to carefully read your loan contract and consult with your loan specialist.
Take note that interest may still be involved in an interest-free loan. This happens when one of the conditions in the contract is violated, resulting in a penalty.
In some cases, these conditions may trigger deferred interest, which means you will have to pay interest on previous installments that were paid on time and in full. These charges can add up to a much higher amount than the interest charged on a regular loan.
In addition, licensed moneylenders are subject to legal limits and regulations. Late interest is capped at 4% per month. Late fees for delayed payments are restricted to $60 per month for each month of late repayment. Additionally, moneylenders may charge a processing fee of up to 10% of the loan amount and ​​court-ordered fees to get back the loan.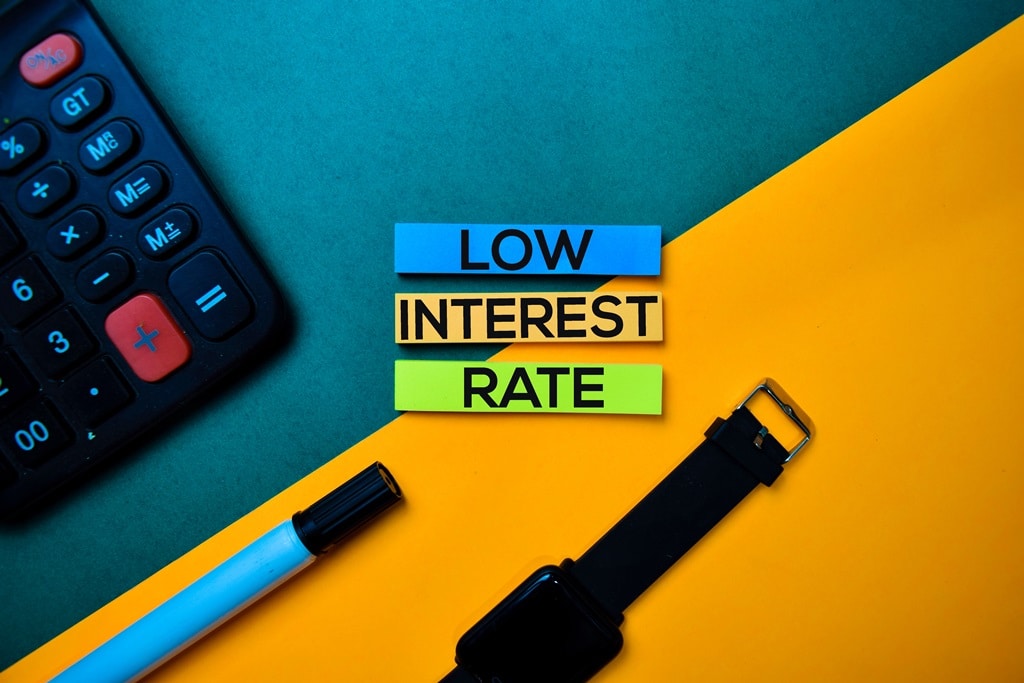 Tips to secure a loan with the lowest interest rate
Getting a loan with the lowest interest rate in Singapore can be tough because rates change and the requirements can be tricky. But here are some simple tips to increase your chances:
1. Having a good credit score
Banks check your credit score before approving your loan. A good score shows you're reliable and responsible with payments.
Bonus tip: If your credit score is low and the bank won't give you a loan, don't worry. You can still apply for a loan from licensed moneylenders. They don't discriminate based on credit score, so even if you have a bad score, your loan can still be approved though you might need to pay higher interest.
2. Pay on time
Late payments or defaults make lenders wary. They want to be sure you'll repay, so make your payments on time.
3. Have a stable income
Your salary isn't the main factor, but having a steady job, even if it's part-time, makes lenders more likely to give you an interest-free loan.
4. Maintain a good loan record
Avoid taking out many loans from different lenders or failing to repay previous loans. By consistently making your payments on time, you greatly increase your chances of getting a loan with a lower interest rate.
5. Provide all the required documents
Have all your paperwork ready and give it to the lender promptly. This includes proof of employment, income statements, ID (NRIC or passport), and anything else the lenders ask for. Being prepared shows you're responsible.
Remember, it can be hard to find an interest-free loan in Singapore, as they may have specific requirements or be part of limited promotions. But by following these simple tips and staying financially stable, you can improve your chances of getting a loan with the lowest interest rate possible.
Should you apply for an interest-free loan?
Believe it or not, an interest-free loan in Singapore may not be suitable for everyone. This is primarily due to the serious repercussions that can result from being unable to make timely repayments. Before you decide to apply for such a loan, take into account the following factors:
Do you have a stable income?
It's important to have a reliable source of income that allows you to comfortably cover the loan installments and handle any unexpected expenses that may arise.
Can you resist the temptation to spend on unnecessary things?
Even if you earn enough to afford the loan installments, it's crucial to exercise self-discipline and avoid frivolous spending. Failing to do so could jeopardize your ability to meet your financial obligations.
Are you committed to making payments punctually?
It's essential to have the discipline to consistently make your payments on time. Defaulting on the final installment of an interest-free loan in Singapore carries the same serious consequences as defaulting on the initial payment.
Do you understand the potential penalties and fees?
Carefully read the terms and conditions to understand the consequences of missed or late payments, as well as any administrative charges that may be imposed.
Do you have a contingency plan for unexpected financial difficulties?
Life can be unpredictable, and financial setbacks can occur. Consider whether you have a backup plan or emergency savings to rely on if you encounter unforeseen challenges that may affect your ability to make loan payments.
Carefully considering these factors will help you determine whether an interest-free loan aligns with your financial situation, personal discipline, and ability to handle potential financial emergencies. You may find it more useful to look for a loan with the lowest interest than a zero-interest rate that has high processing fees or stringent loan terms.
Applying for a loan
Once you have decided to apply for a loan, you have the flexibility to apply for a loan online or directly at their office.
Cash Direct, a fully licensed moneylender, offers some of the most competitive and economical interest rates in Singapore for any personal loans that suit your needs. Apply for a loan with us here.